Publishing family history | Writing creative nonfiction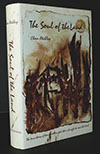 The dust jacket for this 6"x9" hard cover is a scanned copy of an image Judith developed while making paper using all-natural pulps, fibers and grasses. It tells the story of two brothers and their struggle to own the land.

This 5.5"x8.5" soft cover is a picture of a Judith original. The 3'x5' acrylic painting is framed in barn wood. It pulls the reader into the room of an old, abandoned family farm house where an open door beckons.
How to write an award winning family history
Judith has the unique ability to capture the essence of the story in a single work of art. Click here if you would like to consult with Judith.
This 8.5"x11" hard case cover is a photograph of a ring of vintage poker chips framing a picture of old time gamblers. The spot gloss overlay on the lettering and poker chips results in a 3 dimensional effect of looking through a window into a by gone time.
This 6"x9" soft cover consists of a scanned copy of an 80-year-old scratched, sepia photograph of the author and her two siblings. During the depression, they had to sing in bars and chase the coins thrown on the floor to have enough money to eat.

This 6"x9" soft cover consists of a photograph of the branches of a tree by the author. It is overlaid with an original water color of a sunrise by Judith.
A social worker's guide to living a better and fuller life